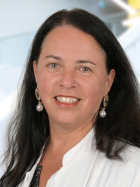 Magali Cucchiarini, PhD
Magali Cucchiarini, PhD, is an Associate Professor, Group Leader, and Vice-Director of the Center of Experimental Orthopaedics, Saarland University Medical Center, Homburg/Saar, Germany. She graduated from the University of Nice-Sophia Antipolis, France where she received her PhD Thesis summa cum laude.
Dr. Cucchiarini was a senior post-doctoral fellow at Harvard Medical School and worked for two years at the University Hospital Inselspital, Bern Switzerland. Her major research interest lies in generating novel cell-, gene-, and tissue-engineered-based systems to treat orthopaedic disorders.
Dr. Cucchiarini made over 138 national and international presentations, co-authored 13 book chapters, edited one book (Regenerative therapy for the musculoskeletal system using recombinant adeno-associated viral vectors), and is an author of over 185 peer-reviewed articles.
She sits on the Editorial Boards for OAC Open, OJSM, JTERM, Current Pharmaceutical Design, Frontiers in Bioengineering and Biotechnology, and Biology, and serves as a reviewer for Osteoarthritis Cartilage, OAC Open, Acta Biomaterialia, AJSM, Biomaterials, eCM, Gene Therapy, Journal of Orthopaedic Research, Molecular Therapy, Nanomedicine, Scientific Reports, Stem Cell Research & Therapy, Tissue Engineering.
She serves as a Board Member of the OARSI, was a Board Member of the Orthopaedic Research Society (ORS), and is involved in the International Cartilage Regeneration & Joint Preservation Society (ICRS) and the American Society of Gene & Cell Therapy (ASGCT).