Corporate Membership
As a 2024 OARSI Corporate Member, you'll be recognized as a leader in the field of OA research. Your corporate membership entitles your company to numerous value-added benefits listed below.
Corporate Membership Application
Corporate Member Year-Round Benefits:
Corporate recognition and logo on OARSI website and OARSI Congress website
Logo on OARSI Weekly Briefing e-Newsletter and on the opening slide of each OARSI LIVE webinar
Opportunity for your organization's leadership to serve on specific OARSI committees and task forces
Invitation to annual Industry Council meeting at World Congress with OARSI leadership. The Council meeting provides our Corporate Members with an opportunity to discuss ongoing projects, and shape future initiatives
Ability to identify up to (5) five Member Representatives who will each receive the benefits of Full Membership ($1250 value)
Benefits for Your Member Representatives:
Access to the Members-Only section of the OARSI website, including access to the Membership Directory,
mentor opportunities, and the OARSI Job Board
Access to the Society's official journals, Osteoarthritis and Cartilage and Osteoarthritis and Cartilage Open
Complimentary or reduced registration to OARSI educational webinars
Benefits at the World Congress:
Five (5) Member-Rate Congress Registrations (approx. $200 savings/attendee)
Opportunity to host a satellite symposium at World Congress
Reduced World Congress exhibit booth fees ($500 Discount)
Corporate recognition w/ linked logo on the World Congress website
Invitation for your Member Reps to attend the Industry Council Meeting, held during the Congress
Additional recognition aimed at World Congress Attendees
• World Congress promotional emails
• Meeting signage
• Verbal Recognition at the Opening Session
• Corporate Member recognition on your colleague's Congress name badges
One Year Membership
Two Year Membership
Three Year Membership
$10,000

$17,000

(Fully payable in year one - a savings of $1,500 per year)

$25,000

(Fully payable in year one - a savings of $2,500 per year)
Interested in learning how you can reach our audience and become a World Congress Sponsor, Supporter, or Exhibitor?
CONTACT:
Dana Groves, Industry Relations Manager
dgroves@oarsi.org
856-642-4434
Schedule a call with Dana HERE 
2023 Corporate Members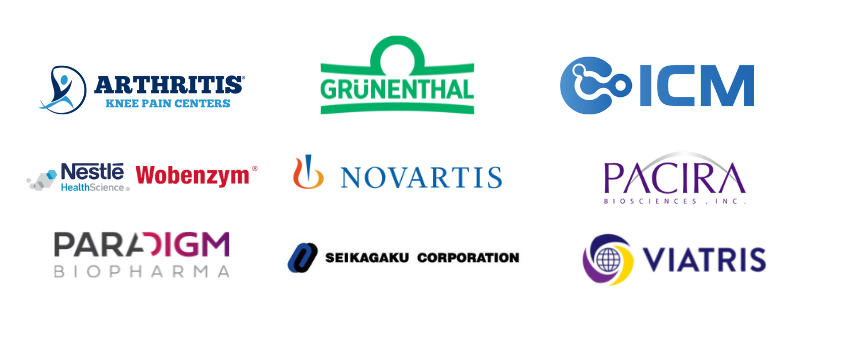 Past Corporate Members 
2022:
Aptisssen
Arthrtitis Knee Pain Centers
ICM
WOBENZYM®  | Nestlé Health Science
Novartis
Pacira Biosciences, Inc.
Seikagaku Corporation
TRB
Viatris
2021:
Arthritis Knee Pain Centers
Biosplice
Flexion
ICM 
Novartis
Pfizer | Lilly
Seikagaku Corporation
Viatris
2020:
Arthritis Knee Pain Centers
EMD Serono
Mylan
Novartis
Seikagaku Corporation
2019:
EMD Serono
Flexion
Mylan
Pfizer
Samumed
Seikagaku Corporation