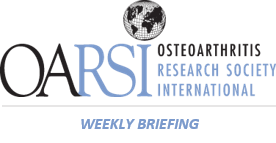 Welcome to the OARSI Weekly Briefing - the single resource you need to stay up to date with OARSI & World Congress news, membership announcements, and happenings within the OARSI & OA community.
Bookmark this page for weekly updates.
Join the conversation online by following OARSI on Facebook, LinkedIn, and Twitter.



---
October 1, 2021 Briefing-at-a-Glance
Abstract Submissions Now Open | Save the Date: OARSI CTS| | Engagement Committee Survey | OARSI Discussion Group | OARSI Live Call for Presenters | OARSI Connect '21 Recordings | Exhibitor or Sponsor| Important Dates | Weekly Briefing Archive
The Osteoarthritis Research Society International invites you to submit your research for an in person or virtual oral or poster presentation at the 2022 World Congress to be held in Berlin, Germany. The submission period will close on November 12, 2021. Click HERE to read additional information on the submission process and to ensure your abstract is submitted to the appropriate category.
The OARSI Clinical Trials Symposium is scheduled for Wednesday, October 20th at 9 am EST. This symposium is envisioned as a debate continuing the discussions held with OARSI, the FDA, and the Arthritis Foundation (AF) in June of 2021. The debate "How can we design clinical trials for regulatory approval in OA" will feature OARSI members and individuals from the FDA. For the agenda and more information click here.
Sponsored By
The OARSI Engagement Committee is planning the next iteration of the OARSI Live webinar series. The committee would like to hear from you to help plan the series. 
Please take 3 minutes to complete the following survey to let us know your preferences in regards to the frequency, cost, and length of the webinars. Your feedback will be very helpful in planning the future of the OARSI Live series. 
This survey will remain open until 12 pm EST on Monday, September 27th.
https://www.surveymonkey.com/r/PY7BZDW
OARSI's Discussion Groups bring together individuals with a focus on specific OA-related specialty areas. To make the Discussion Groups easier to join we have updated our database. Now OARSI members can log in to their profile and select the Discussion Group(s) that they would like to join. By updating your profile with your Discussion Group preferences, we will be able to send targeted emails to each Discussion Group and maintain an official roster for each group. To update your profile, follow these steps.
Log in to OARSI.org
Click on the menu button in the top left of the screen
Select 'My Profile'
Select 'Edit'
Select the 'My Account' tab
Scroll to Discussion Groups and select your group(s)
The OARSI Live webinar series is currently on hiatus and will resume this fall. We are looking to schedule our fall program and are seeking webinar presenters. If you would like to present on an OARSI Live webinar, please contact Vincenzo Nelli with a brief summary of your proposed presentation.
Did you know that all of the recorded sessions from OARSI Connect '21 are available to registered attendees through April 2022!? If you missed a session because you attended another session or it occurred at a time that was inconvenient for you, you can view it by logging into the virtual meeting website. Just navigate to the Agenda page and select the session(s) you want to view.
If you missed OARSI Connect '21, you can still register and have access to the recordings. It simple, just register HERE.
Contact Dana Groves
Manager of Relations Manager
856-642-4434  
dgroves@oarsi.org
Download Our 2022 Sponsorship, Support & Exhibit Prospectus
 
October 20, 2021 - OARSI Clinical Trials Symposium
November 12, 2021 - Abstract Submission Deadline
2021 Membership Dues: Be sure to renew your OARSI dues. Renew.
April 7 - 10, 2022 - OARSI World Congress in Berlin, Germany
2021 Industry Partners
2022 Industry Partners